My sister is opening a used book store in Marysville, Washington. I wanted to create her a wall hanging to put up in the store. I suck at photoshop, and I'm not great at using real life mediums, so I decided to go with vector art. The problem with vector art, however, is that it looks like vector art: it has crisp edges, perfectly symmetrical shapes, and even strokes. I wanted this to look like a painting, not something digital. I stayed up until 3am sunday night working on it, and the result was "There's a duck in my coffee."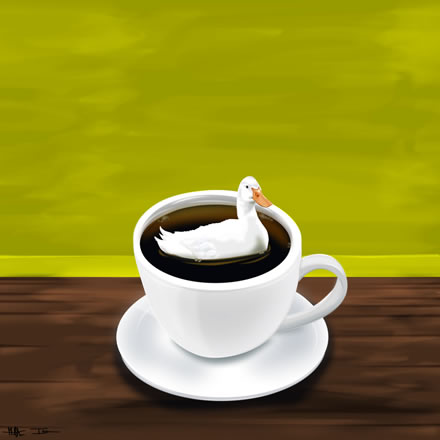 Click the image to zoom
Here's some closeups of the duck's head, along with a highlight of the paths I used to create this with the pen tool. I used adobe fireworks.
Click the images to zoom
I ordered a print of it from a service that does digital to canvas printing. Hopefully it looks nice on paper. The inspiration for this came from one of my favorite artists, Michael Sowa.
If ducks are your thing, check out this drawing I did with prismacolor colored pencils in high school art class.
More stuff I've created